IT Staff Augmentation Service: Why Is It Profitable For Your Business?
IT news
Every business needs specialists, but only some have the resources to hire and maintain a comprehensive staff. As a result, companies are turning to the IT staff augmentation model to minimize costs. There are numerous examples of successful IT staff augmentation. The most shining examples are WhatsApp, GitHub, and Skype.
Based on our experience at Red Jumpers, we will tell you what IT staff augmentation is, how it differs from outsourcing, what IT staff augmentation benefits are, and when to use IT staff augmentation services.
What is IT Staff Augmentation?
IT staff augmentation is a form of cooperation in which the contractor is a third party rather than part of the customer's staff.
As a rule, an IT staff provider gives specialists to the client. It is the employer of the specialists, and the customer enters into a contract with this company. Thus, the customer does not undertake any obligations to hire, formalize, and pay the specialists and does not include them in its staff. Instead, they work as external employees brought into the company for a particular task or project.
What is the difference between IT staff augmentation and outsourcing?
Many people fail to see the difference between outsourcing and IT staff augmentation, though it's not quite right.
Outsourcing involves delegating an entire function or business process to a third party – the executing company. For example, under the outsourcing model, you can sign a contract with a company that will handle HR management. The outsourcing company will take over the entire HR management process, providing the employees (HR managers) and all necessary resources. IT outsourcing typically involves outsourcing strategic tasks such as creating SaaS and software. Outsourced development implies that the outsourcing firm is fully responsible for all elements of the final product.
On the other hand, IT staff augmentation offers only outside involvement of specific competencies. This approach is precious for small or highly specialized companies which do not have a staff of different specializations. IT staff augmentation allows businesses to use the necessary specialists at a specific time, avoiding the difficulties associated with adding staff on an ongoing basis.
Another difference is that IT staff augmentation focuses on remote work. Many companies define remote employees as self-employed rather than counting them as part of the internal staff. This is especially true of IT staff augmentation, where most specialists interact remotely with the customer and his team.
IT staff augmentation of developers is especially popular in the IT field. Most small and medium-sized businesses cannot maintain their team of IT specialists, while the need for digital competencies is increasing these days.
This is why companies often turn to IT staff augmentation providers. We at Red Jumpers can help you in looking for the best providers.
Benefits of IT staff augmentation
Here are 5 main benefits of using IT staff augmentation services.
Speed and ease of onboarding
IT staff augmentation allows businesses to quickly bring in qualified people with the necessary experience and competencies. The model also saves time, which is not spent on the lengthy process of finding, hiring, and training employees. Finally, you have no legal or financial obligations related to having employees. The IT staff provider handles employee benefits, accounting, taxes, and insurance.
Saving resources
It is one of the most attractive factors in IT staff augmentation. Instead of the numerous financial expenses of hiring and training employees and creating the appropriate infrastructure, the business pays only the contracted amount to the IT staff provider. In return, it gets a qualified specialist who can immediately begin performing the tasks.
IT staff augmentation allows you to reduce not only direct but also indirect costs because there are fewer risks. Companies providing IT staff augmentation services build their reputation on the high competence of their staff and take responsibility for the quality of their work. Attracting a specialist from such a company is much less costly and risky than trying to build your recruiting system.
Flexibility
This is especially important in IT, where significant variation in project scope can require a company to increase or decrease teams from project to project. IT staff augmentation provides such an opportunity without financial and legal complications for the business. As a rule, an outsourced specialist works in a client's team, but only for a specific task or project. After the order is completed, the specialist ceases to be part of the team.
IT staff augmentation allows the company to rapidly expand the project team thanks to the competencies brought in from outside and then return to the original scale. At the same time, it will not face the problems associated with mass layoffs of employees hired under a regular labor contract.
Effective control
IT staff augmentation differs from outsourcing as individual specialists work in teams and within the framework of the customer's project. This allows the client to control the quality of execution and adjust tasks and goals in the project work process. Thus, IT staff augmentation provides more flexibility and convenience for the customer.
Strict selection of specialists
IT staff providers give the best specialists in their field, allowing the customer to fill any gap in competence. Out-of-staff work is prevalent in IT. This means that a specialist can be found for almost any type of task or project with a wealth of knowledge and experience in the field.
A professional from outside will not only get into a project faster but also will work more efficiently. In addition, such a specialist can bring original solutions and ideas from outside the customer's business. External assessment of a team's work and project potential can help develop a project faster if used correctly.
When to use IT staff augmentation services?
Situations when IT staff augmentation services can be used for:
Scaling up or down quickly. If your company is experiencing rapid growth or downsizing, this service can provide you with the necessary resources to adapt quickly.
Project-based work. Suppose you have a specific IT project that requires additional expertise. This service can help you find the right professionals to complete the project within a defined timeline.
Temporary replacement of IT staff. If one of your IT staff members is on leave or has left the company, this service can help you find a temporary replacement to ensure business continuity.
Lack of in-house expertise. If you need a particular skill or expertise that your in-house team lacks, this service can provide you with the required talent to complete the job.
Cost saving. IT staff augmentation can be a cost-saving alternative to hiring a full-time employee. You can hire the required resources only for the project's duration, thereby saving on overhead costs.
So, IT staff augmentation services can help you augment your existing IT team with the right skills, experience, and expertise.
Staff augmentation process at Red Jumpers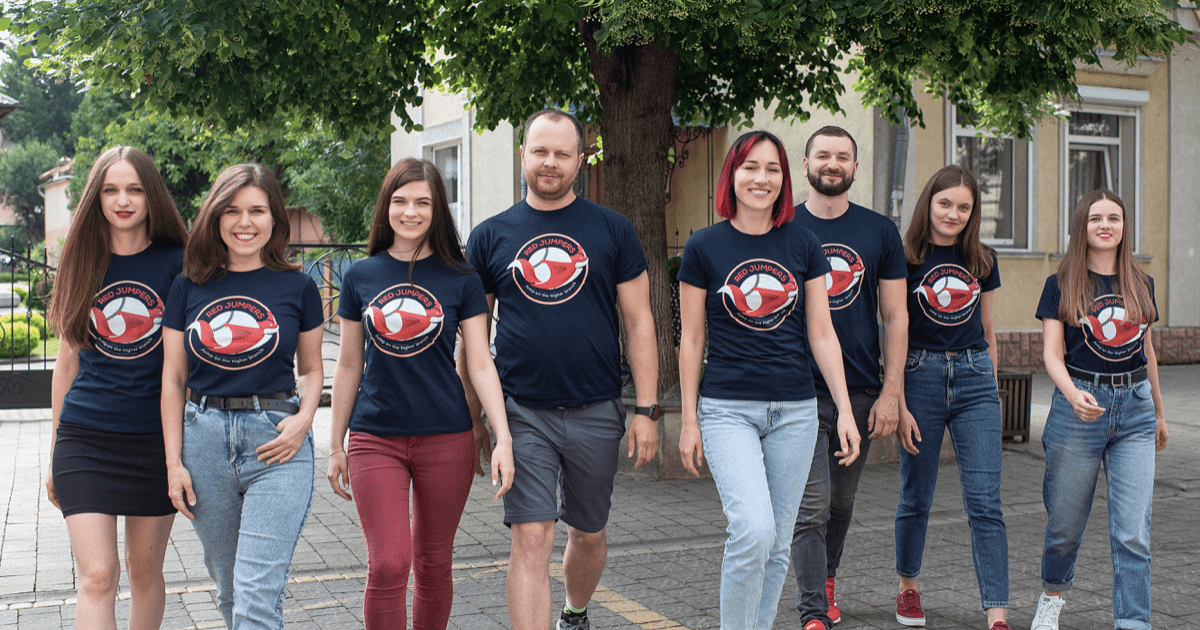 Red Jumpers Agency is the largest network of trusted software and digital companies in Eastern Europe & Latin America. Our IT staff augmentation process looks like this:
We begin with an interview to discuss all the details to understand all your needs and find the best developers for you.
Then we reach out to our extensive network of partners to find the best candidates.
Once we have identified potential candidates, we conduct interviews to assess their skills and experience.
We select the best candidates and offer them to you.
Finally, after you have found the best ones, you can sign contracts with IT staff augmentation providers.
We provide ongoing support for our clients. You can always contact us to find candidates for emerging needs. Thus, your business will become more competitive with us, and your team's efficiency will increase manifold without additional costs or risks.
Conclusion
Many people think that IT staff augmentation is a short-term solution and that investing in an in-house staff of specialists provides the company with more significant benefits in the long run. That's not entirely true. Some IT staff augmentation companies offer customers preferential terms for long-term cooperation.
If you need to find specific developers for your project, feel free to contact Red Jumpers right now!