IT Industry in Bulgaria: Why Should You Hire Bulgarian Developers?
IT Market Analytics
For a technology company to maintain growth, hiring experienced and skilled professionals is essential. At the same time, there is a global shortage of programmers, and even the leading outsourcing destinations are no exception. A global labor shortage was 40 million skilled professionals worldwide in 2020. By 2030, the global shortage is expected to reach 85.2 million.
In our article, we want to discuss Bulgaria as a promising IT market for hiring developers in 2023. We will analyze the IT industry's state in Bulgaria, major IT companies, Bulgaria's B2B IT services market, government support for the IT industry in Bulgaria, and more.
State of the IT Industry in Bulgaria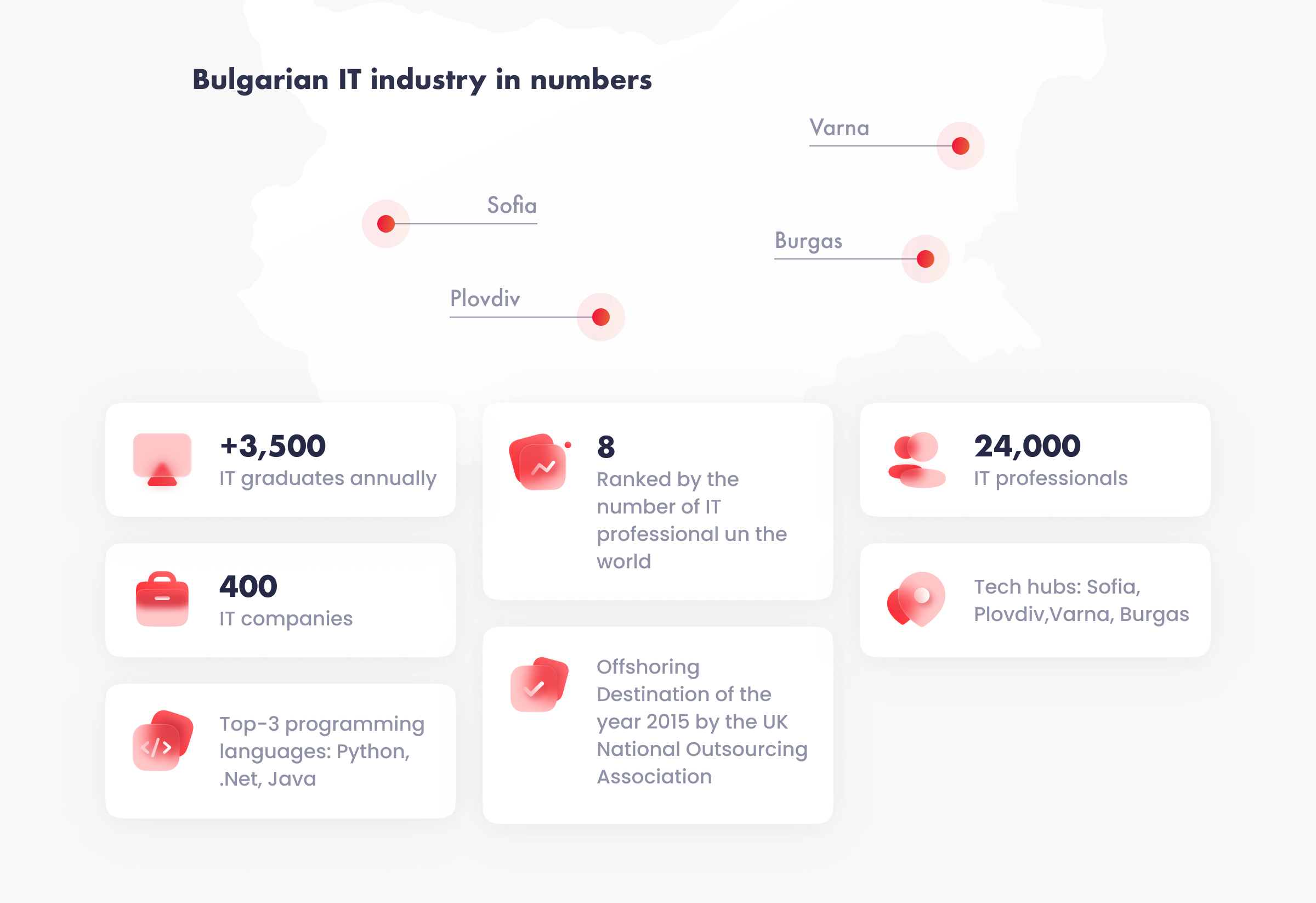 Bulgaria has been a member of the European Union since 2007. Since then, it has achieved impressive growth. Bulgaria ranks 35th among the 132 economies featured in the GII 2022. This shows the country's success in innovation development and serves as one of the indicators of its technological competitiveness in the global IT market.
Bulgaria is an attractive destination for foreign investors looking to outsource services. In the early years, these mainly were call centers, but the Bulgarian IT outsourcing or nearshoring business has reached new heights.
Noblehire has conducted a survey among 3150 Bulgarian IT specialists in 2021. Most of surveyed IT specialists were Full Stack programmers (571), Back-end developers (483), Front-end developers (273), and QA (263). The results are:
On average, the salaries of IT professionals in Sofia are 35% higher than those in other cities in Bulgaria.
On average, IT professionals without an office or with an office abroad receive 25% higher salaries than their colleagues in Sofia.
After Executive/C-level people, the highest average salaries in the Bulgarian IT sector are earned by Software Architects, Security Engineers, and Team Leads.
The best-paid IT professionals in Bulgaria in relation to the main technology they use are Go programmers, followed by C++, TypeScript, and Kotlin.
Professionals who are responsible for other people take, on average, 3 times bigger bonuses compared to their colleagues who are not responsible for other people.
The highest-paid professionals with less than 1 year of experience in a given role are Product Managers/Owners, followed by DevOps and Project Managers.
For most of the technical roles with 10-15 years of experience, there is an exciting trend of a 20-30% decrease in salary compared to their counterparts with less experience.
The most popular technology among survey participants was JavaScript (418), followed by Java (377) and .NET (225).
The best-paid professionals with 9-10 years of experience in a given role are software architects, followed by Embedded and Back-end engineers.
The Bulgarian software market has changed from being mainly outsourcing-oriented to partnership models between Bulgarian software companies and foreign customers focusing on developing their products. The high demands of the customers generate a high-quality offer by the Bulgarian IT market.
Major IT Companies in Bulgaria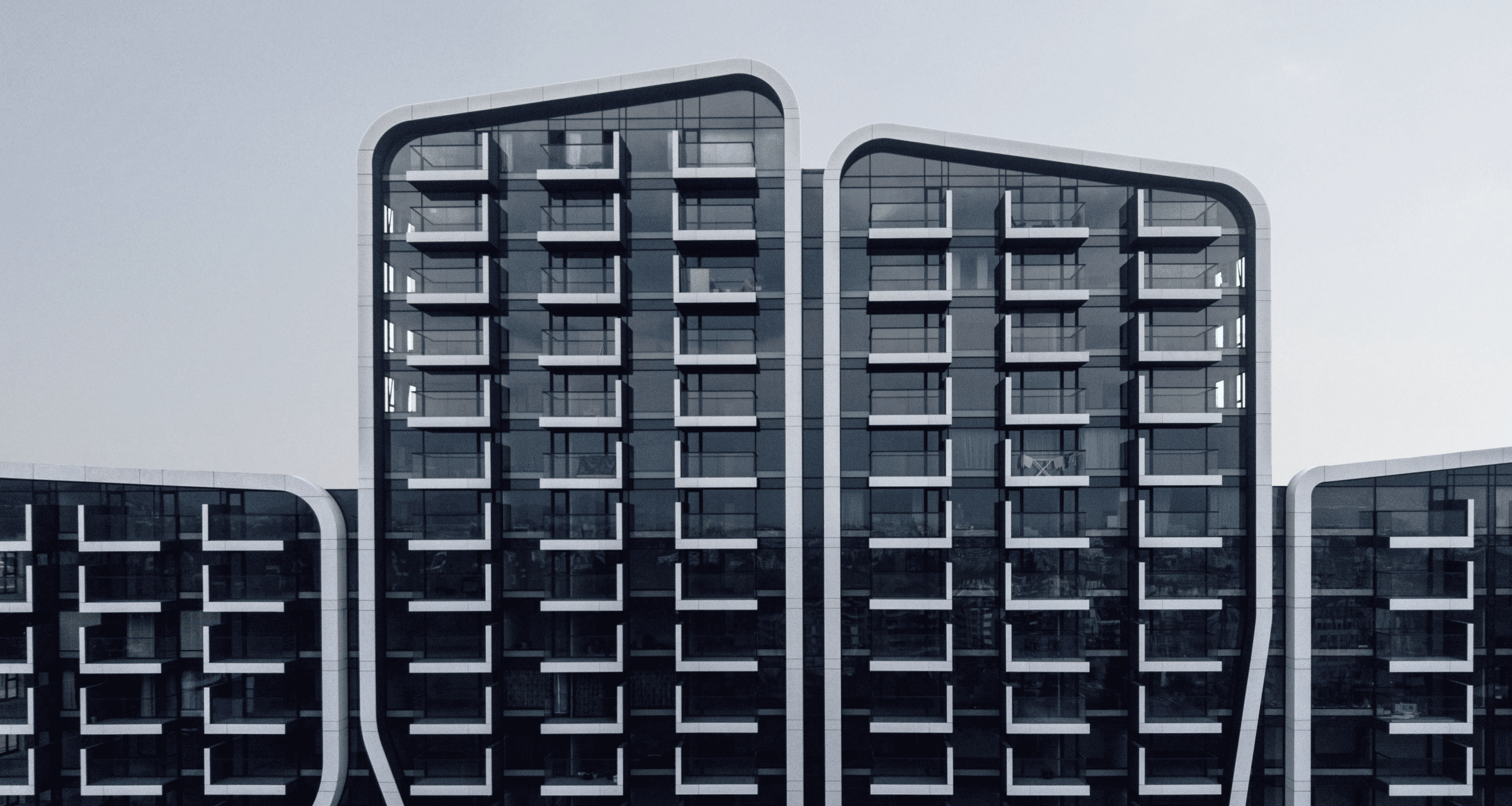 According to Dev.bg, over 1200 Bulgarian IT companies are hiring developers. We focused on mid-size companies staffing 100+ employees to choose major IT companies in Bulgaria. We chose only Bulgarian IT companies with high review scores and 10+ years of experience in outsourcing IT services. Major IT companies in Bulgaria:
MentorMate. This Bulgarian IT company delivers web development, systems integration, development & operations, and cloud services focusing on banking, healthcare, and education domains. AstraZeneca, Cambria, and Royal Bank of Canada are among its customers.
Scalefocus. This IT company in Bulgaria delivers custom software development, data analytics, ML, and AI services focusing on insurance, retail, e-commerce, healthcare, and logistics domains. Vivartia, Wacom, and InfoVista are among the customers of this development company.
Rinftech. Automotive, robotics, fintech, retail, and supply chain are the specialization of this Bulgarian development company. It delivers IoT development, AI implementation, embedded software engineering, and cloud development to clients worldwide. Among their clients are Honda, Visteon, and Intel.
Flat Rock Technology. The primary services of this Bulgarian IT company are custom software development, cloud management, and CMS development. Finance, transportation, insurance, and real estate are the main domains they work with. LabWorm, Doppio, and Purify Digital enjoyed cooperation with Flat Rock Technology.
Dreamix. This Bulgarian IT company delivers custom solutions development and AI & ML services to companies from telecom, FinTech, transportation, and e-commerce domains. Ericsson, CloudCar, and VistaJet are among the customers of this development company from Bulgaria.
Bulgaria's software sector is expected to achieve annual sales revenue of more than 15 billion levs in 2026, compared with over 5.47 billion levs in 2021.
Bulgaria's B2B IT Services Market
According to the Endeavor report, Bulgaria's information and communication technologies (ICT) domain grew from 1.8% of GDP in 2011 to 7% in 2020, employing nearly 115,000 people. Key Bulgaria's B2B IT services market statistics and facts:
Bulgaria has many R&D offices of global tech giants like HP, SAP, Johnson Controls, Oracle, and CISCO.
Bulgaria was 17th on Global Services Location Index in the 2021 A.T. Kearney ranking.
Almost 30 000 IT professionals provide outsourcing services.
Bulgaria's software developer's salary is around $1500 monthly, while the hourly rate is $25-50.
About 2 200 IT specialists graduate from Bulgarian universities.
Key IT cities are Sofia, Varna, Plovdiv, and Burgas.
Sofia is the largest IT hub in Bulgaria, housing nearly 70% of developers.
According to Equinic's Global Technology Trends 2022 survey, companies in Bulgaria are planning significant investments in digital technologies to support their plans to reach new markets. Of 2900 worldwide IT decision-makers, 72% indicated that their organizations plan to reach a new city (31%), a new country (33%), or a new region (38%) in the next 12 months.
In Bulgaria, 59% of IT leaders plan to reach new markets. 29% of them target a new country, while 26% target a new city and 15% a new region. 45% of businesses were affected by problems related to the supply chain in 2022, while 43% cited the global shortage of microchips as a threat to business.
The advantages of working with Bulgarian IT companies
As you already understand, Bulgaria has a promising IT market. Many companies from Western Europe, the USA, and even CIS are looking for developers in Bulgaria. And here is why:
Great business culture. Foreign clients know they can rely on a sound business attitude and work ethic. Western European values largely inspire Bulgarian business culture. Commonalities clearly prevail, and no particular cultural differences make cooperation and communication difficult. Leading Bulgarian companies, for example, also attach great importance to corporate social responsibility. Both business owners and employees in Bulgaria attach great importance to punctuality and meeting deadlines. Another characteristic of Bulgarian IT business culture is direct, open, and constructive communication.
Real-time cooperation. Bulgaria's strategic location near Central and Western Europe is highly appreciated – both geographically and culturally. Bulgaria is up to 2-3 hours by plane from Western European cities and up to 10 hours by plane from the USA. Therefore, hiring Bolgarian IT experts and conducting a project remotely promises fewer collaboration problems and better efficiency when working across time zones. For the EU clients, this also means real-time collaboration.
Reliable Internet infrastructure. It is a point that is often overlooked but is of enormous importance. The quality of the Internet infrastructure also contributes to building high-quality, long-term partnerships. The Bulgarian Association of Software Companies confirms that the country is among the world leaders in terms of Internet coverage, speed, and accessibility, making Bulgaria a reliable IT outsourcing location.
Financial attractiveness. The Bulgarian government is committed to improving the economic situation in the country through tax incentives that are attractive to both local companies and foreign IT clients. Bulgaria also has one of the lowest income tax rates of 10% compared to other European countries. Labor costs can be described as cost-effective. You can find IT experts with proven skills in Bulgaria at comparatively low costs.
It is profitable for foreign firms to open their development centers in Bulgaria. One of the main reasons is profit tax (10-15%), which often does not compare to the taxes in other European countries. In Bulgaria, there is also a lower level of salaries, office rent, maintenance costs, etc.
Government Support for the IT Industry in Bulgaria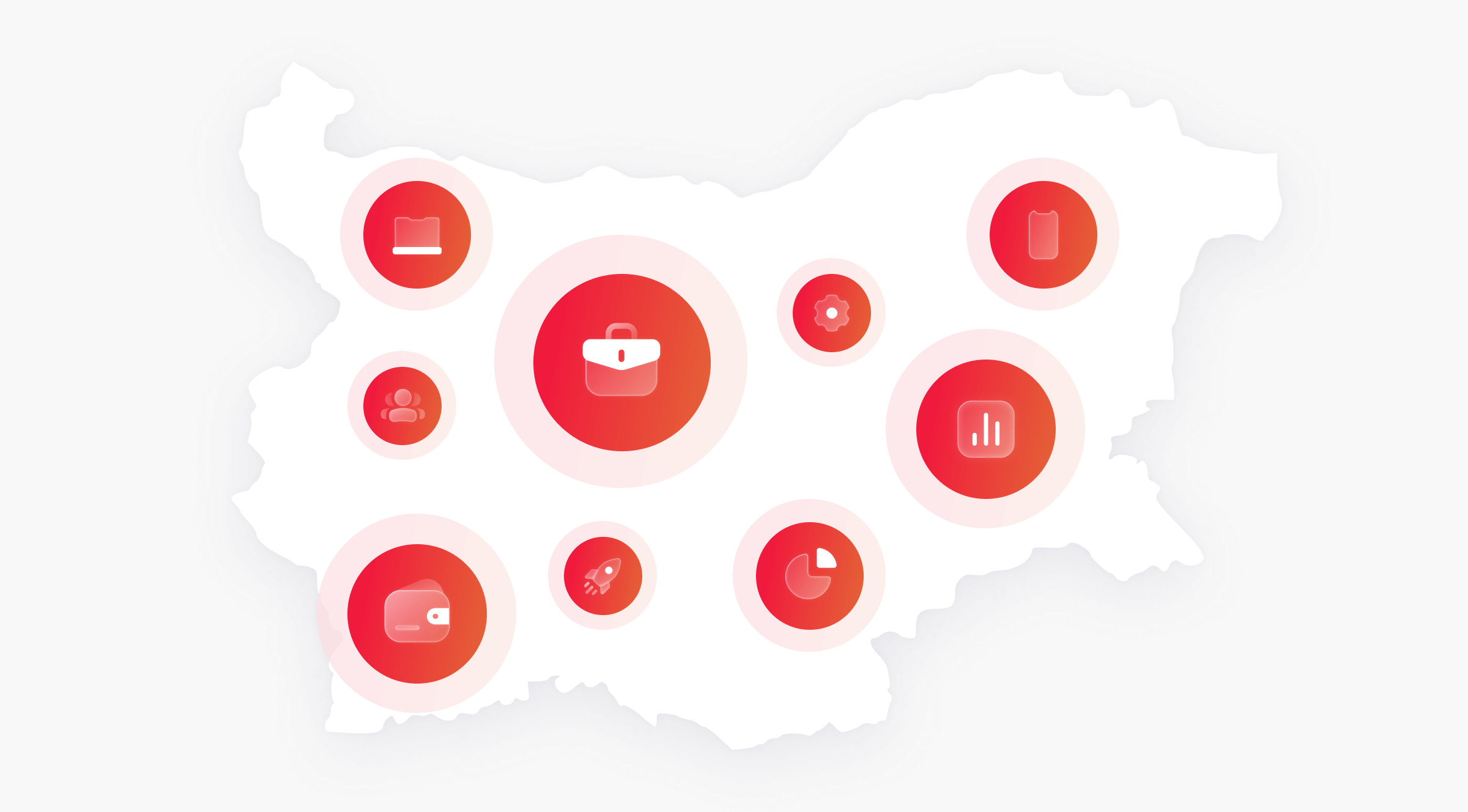 Income is subject to a uniform tax rate of 10% (flat tax). The same applies to corporate income tax! There is no trade tax, and the withholding tax is just 5%. Overall, the tax burden in Bulgaria is significantly lower than in most other EU countries.
If a company is founded in Bulgaria, its profits are taxed at a flat rate of 10% corporate income tax, and the withdrawal of profits is taxed at a further 5%. The total tax rate for IT companies in Bulgaria is 14.5%.
The withholding tax is levied on dividends and liquidation proceeds that have arisen in a company with its main activity in Bulgaria. This applies to both domestic and foreign legal entities (corporations). A 5% withholding tax can be avoided if the company is correctly structured via a holding company in an EU country.
How can Red Jumpers help clients achieve IT goals?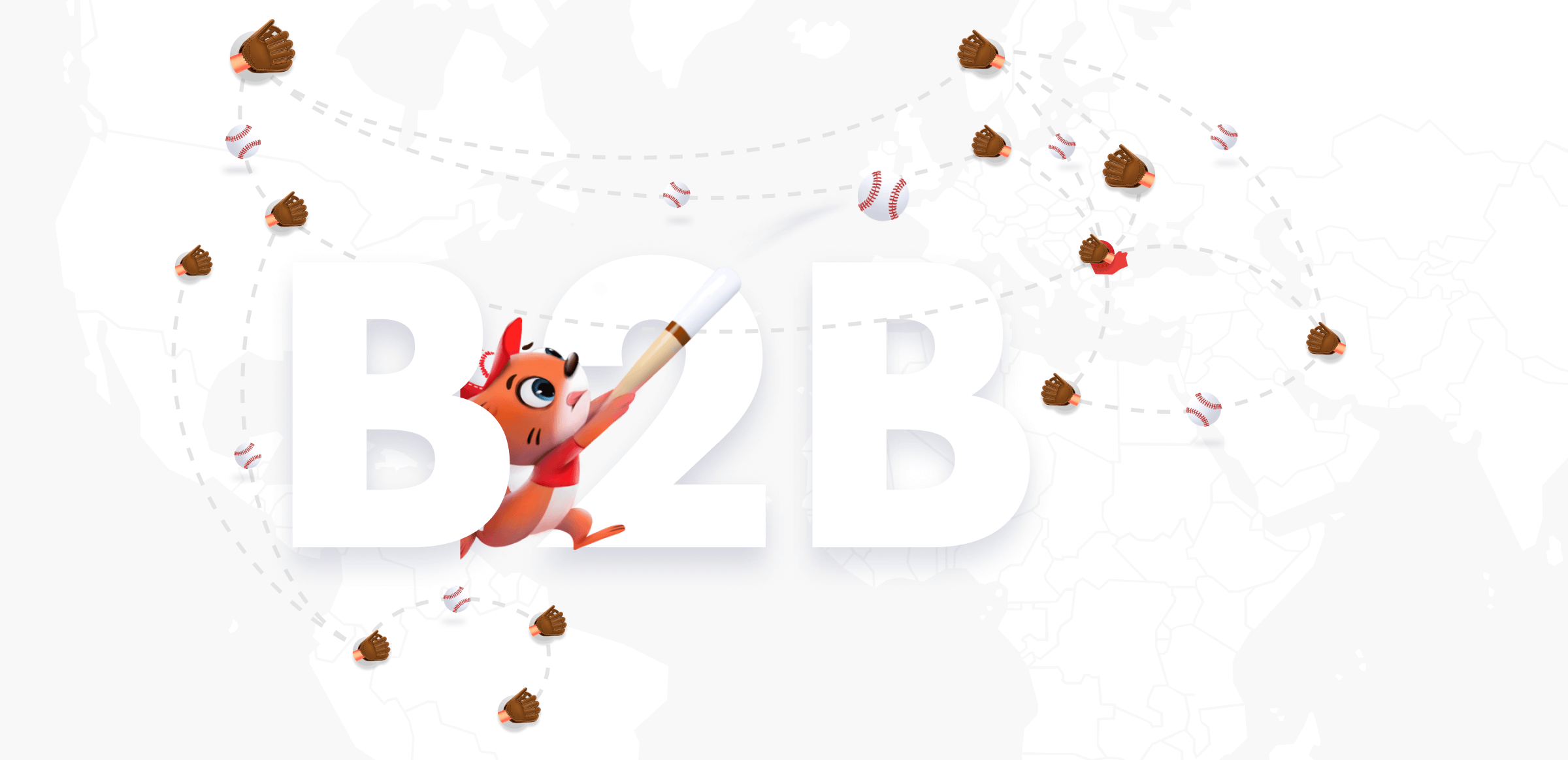 We are an agency that unites IT companies. We aim to help you cooperate so that developers don't end up on a bench, but gain experience and bring cases to the company. Red Jumpers can:
Provide you with access to over 7000 proven developers
Form an autonomous development team for your goals
Bring your software idea to life
Our team has developed a network of more than 700 companies, which is constantly growing. Therefore, you will work with strong partners who will allow you to grow professionally.
Conclusion
IT professionals will play an increasingly leading role in the digital transformation of businesses, suggesting that demand for them will remain high. Companies will continue to hire developers, cloud solution specialists, DevOps engineers, and others from Bulgaria to bring innovation to their business processes. Turn to Red Jumpers to make hiring Bulgarian developers easier!