IT In Ukraine: Why Is This IT Market Popular For Software Outsourcing?
IT Market Analytics
Russia's invasion forced Ukrainian IT companies to stop renting and reduce staff. As a result, about 40% of Ukrainians lost their jobs. However, the IT industry was almost the only sphere in Ukraine that quickly resumed hiring and kept salaries at the same level.
In our article, we want to discuss Ukraine as a promising IT market for hiring developers in 2023. We will analyze the IT industry's state in Ukraine, major IT companies, Ukrainian's B2B IT services market, government support for the IT industry in Ukraine, and more.
State of the IT Industry in Ukraine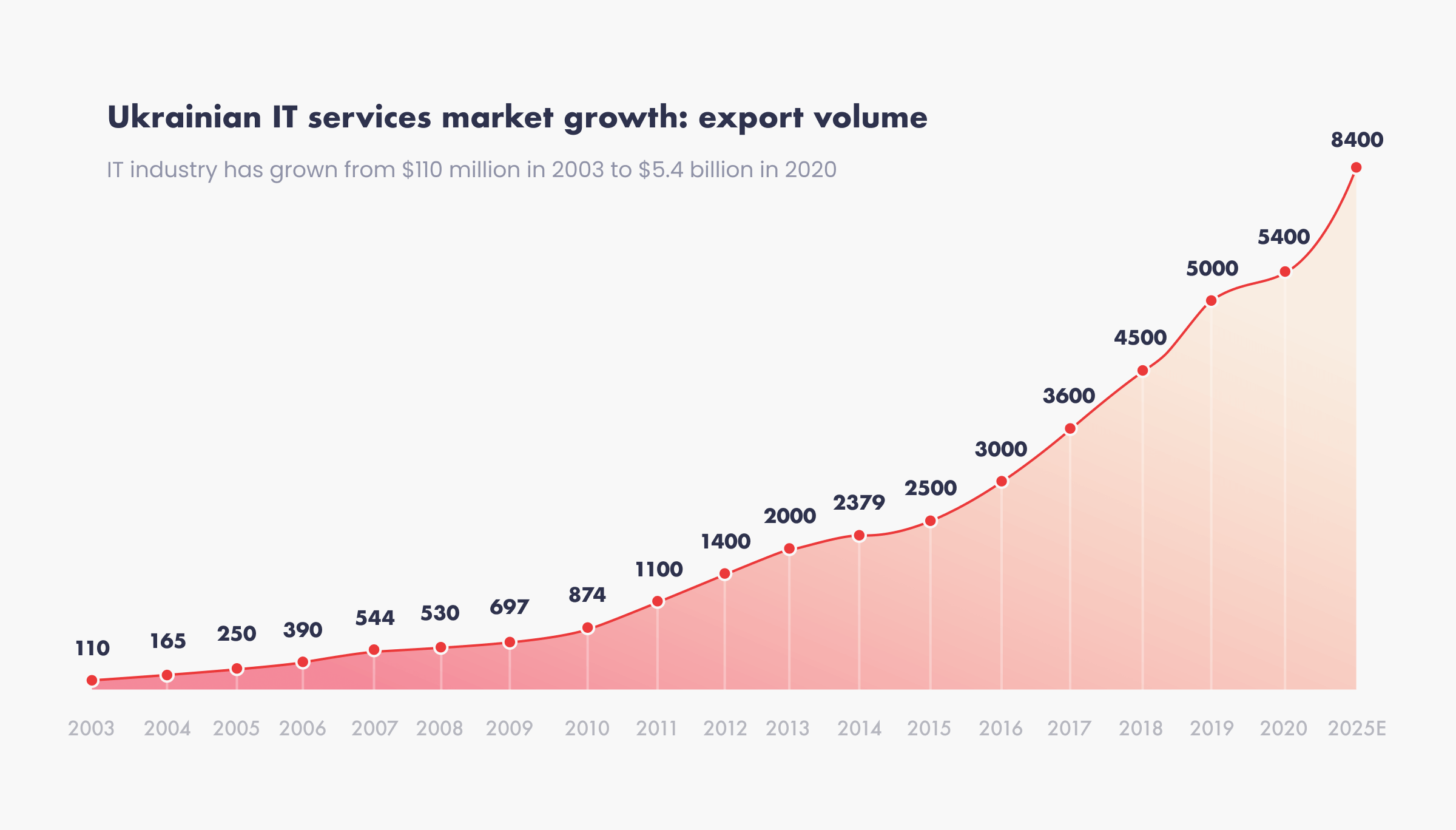 The war has affected all industries in Ukraine. The IT industry was no exception. Despite this, many believe this industry will lead the Ukrainian economy and develop globally after the victory. The IT Ukraine Association unveiled the results of an industry survey for the military year 2022:
Share of computer services in the GDP has grown from 1.8% to 3.5% over the last 6 years.
Share of the export of services in the GDP has grown from 13.4% to 37.8% over the last 6 years.
According to analysts' forecasts, the IT industry was bringing in 4% of Ukraine's GDP before the full-scale invasion.
Compared to the previous year, IT brought Ukraine $6 billion in export revenues and achieved a 10% growth.
If not for the war, the IT industry would bring $37 to $44 billion of export revenues to the country in the next 4 years.
IT industry seriously feeds the Ukrainian budget – in 2021, representatives of the industry paid ₴23.5 billion in taxes and fees.
57% of IT companies had plans to open new offices and branches in 2022. But only a quarter of them succeeded.
34.3% of the surveyed companies have successfully adapted to the new realities.
More than 43% of the surveyed companies expect further business growth.
The transformation of IT education will help the sector grow new talent and support the economy. According to the National Bank of Ukraine, the volume of computer services exports in the first half of 2022 showed a 23% increase compared to the same period of the previous year. The IT market is not just growing in wartime – in the first half of the year, the industry paid ₴32.6 billion in taxes.
According to Djinni's analytics, salary expectations of specialists have decreased, and an average of 12 specialists apply for one position, which is 5 times more than in July 2021. The situation is even more acute for juniors – more than 30 specialists respond to one vacancy in this niche. As a result, most candidates are now holding on to their jobs, which helps reduce company staff turnover.
According to Mykhailo Fedorov, Minister of Digital Transformation, the IT industry needs 30 000-40 000 specialists today. According to DOU, 13 candidates are applying for one UI/UX designer position, 17 are applying for one QA Manual position, and 7 are competing for one HR position.
Major IT Companies in Ukraine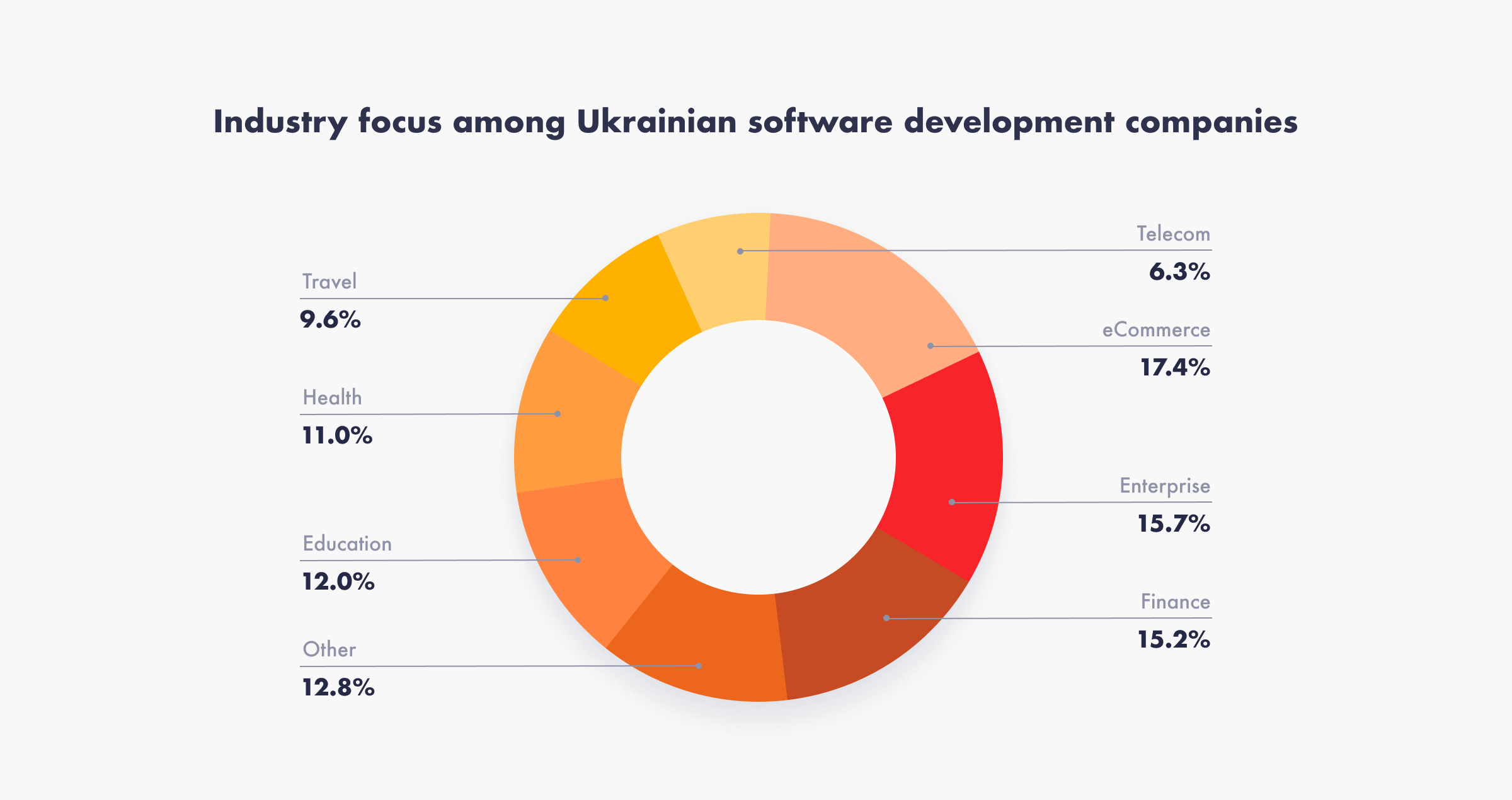 Since 2017, software development companies have been booming in the Ukrainian market. This is thanks to government support, high-quality education, and cooperation between technical universities and IT companies. Ukraine is also one of the top IT outsourcing destinations in the world. According to a survey conducted by Grid Dynamics, programmers from Ukraine most often specialize in JavaScript, Java, Python, PHP, and C++.
We focused on mid-size companies with no more than 150 employees to show you major IT companies in Ukraine. We chose only Ukrainian IT companies with high review scores and 5+ years of experience in IT services. Major IT companies in Ukraine:
SoloWay Technologies. This Ukrainian IT company delivers web development, mobile development, IT consulting, business digitalization, QA, UI/UX design, and team extension services focusing on e-commerce, manufacturing, logistics & transport, real estate, and retail domains. MOYO, SOCAR, and RapidEx are among SoloWay`s customers and are greatly satisfied with the development results.
IT Svit. This IT company in Ukraine offers DevOps, data migration, database development, Big Data, product development, and IT Staffing services. IT Svit specializes in banking, cryptocurrency, delivery, energy, and HR. Northfork, Exto, and Codeta enjoyed cooperation with IT Svit.
inVerita. It delivers staff augmentation, custom software development, product design, DevOps, and QA services to clients worldwide. This team has extended experience in the healthcare, supply chain, and FinTech domains. Among their clients are IntelliBoard, QAD, and MEDIASHOUT.
DevCom. This Ukrainian IT company offers custom software development, IT consulting, mobile application development, testing, software support, and web development services. DevCom has great expertise in finance, nonprofits, construction & engineering, and sports & entertainment domains. TradeWeb, RouteWare, and WWSC enjoyed cooperation with this Ukrainian IT company.
Clockwise Software. It offers product development services, IT staff augmentation, and discovery phase services to companies from marketing & advertising, real estate, telecom, and travel and hospitality domains. WijnSpijs, Creadoor, and BackupLABS are among the customers of this development company from Ukraine.
Currently, there are over 5000 IT companies in Ukraine.
The advantages of working with Ukrainian IT companies
There are considerably more IT specialists in Eastern Europe than in Western European countries. Here are the advantages of working with Ukrainian IT companies.
Treasure trove of experienced and reliable developers
Ukrainian developers are among the best IT specialists in the world. They are people who have brilliant knowledge of IT technologies, excellent knowledge of foreign languages, and higher technical education. In 2023, Ukraine is #1 out of 169 in The Good Country Index as of Science and Technology contribution.
Ukraine is one of the world's regions with significant potential in information technology. Ukraine ranks 4th globally for digital and technological expertise and IT outsourcing destinations in Central & Eastern Europe.
In 2023, the top 5 coding language skills in Ukraine are JavaScript (19.1%), Java (14%), Python (13.4%), C# (13.3%), and TypeScript (13.3%). Ukrainian developers are also proficient in Kotlin, C++, DB, Swift, Go, Ruby, Dart, Scala, Apex, C, 1C, Groovy, Rust, and Elixir. Over 2021, Ukraine's number of certified IT specialists has increased by 29K.
Development prices are considerably lower compared to Western Europe
Ukrainian IT companies offer their services at lower prices than other Eastern European countries. The average salary of programmers, as a rule, is lower than in Poland or Romania. Therefore, many customers try to find an opportunity to outsource their projects to Ukraine. According to DOU`s surveys among PM, HR, DevOps, Data Scientists and QA testers:
The average salary of a Project Manager is $2100.
The highest salaries are for C-level executives: Service Station Manager – $6650, Director of Engineering – $6500.
The average salary of Senior DevOps is $5500.
The average salary of developers is $3400.
1% of the highest-paid developers receive salaries starting from $9200.
Scala, Go, and Rust remain the languages with the highest median salaries for both beginners and experienced professionals.
The average QA salary is $2000.
The top 1% of the highest paid QA specialists receive from $6500.
The top 1% of the most expensive AQAs receive from $7950.
As you can see, the salaries of Ukrainian developers are much lower than those of Western European countries.
Real-time cooperation
Ukrainian development companies are a great way to save time because the outsourcing company is close to the customer while the work schedules match perfectly. The project manager can communicate with the outsourcing company's employees "face-to-face" for as long as needed, making it easy to track that the project is progressing in the right direction.
Consider outsourcing services from Ukrainian developers if you are in Italy, Switzerland, or any other Western European country. There is virtually no difference in time zones. So choosing the right time to discuss work issues is not hard.
Cultural proximity with EU countries and the USA
The similarity of cultural values allows the customer and the Ukrainian outsourcing company to work in an atmosphere of full understanding. As a result, the possibility of disagreements in the cooperation process is reduced to a minimum. Moreover, optimized development processes reduce the time to market for the product.
Government Support for the IT Industry in Ukraine
The Ukrainian government supports the IT industry, recognizing its potential as a key economic growth and development sector. The government has implemented various measures to support the industry, including:
Tax incentives. The government provides tax incentives to IT companies, including a 5% corporate tax rate and an exemption from value-added tax (VAT) on software exports.
Educational initiatives. The government has implemented various educational initiatives aimed at promoting STEM education and developing a skilled workforce in the IT sector. These initiatives include the creation of IT-focused universities and training programs.
Simplified regulatory framework. The government has implemented a simplified regulatory framework for IT companies, making it easier for them to do business and access financing.
Investment funds. The government has established various investment funds to finance and support IT startups and companies.
Legal support. The government has established legal support mechanisms for IT companies, including intellectual property protection and cybersecurity regulations.
Overall, the Ukrainian government's support for the IT industry has helped create a favorable business environment for IT companies, attract foreign investment, and promote the industry's growth.
Future Outlook for the IT Industry in Ukraine
Ukrainian IT industry once again proves its resilience, and industry specialists demonstrate the ability to work in the most incredible conditions. The future outlook for the IT industry in Ukraine:
In the future, Ukraine`s economy will evolve through a recovery that requires digital resources. This may create an increased demand for IT solutions for the domestic market and lead to a change in the structure of the IT market. At the same time, exports of IT services will not stop, and their role remains important, but the market will develop due to the domestic demand for digitalization as well.
Ukraine will be increasingly integrated into the EU ecosystem on its way to EU membership, which will entail further development of the product component of the IT industry. This direction requires better legislation and support from the state and foreign investors.
Some big IT players that did not have their offices in Ukraine before Russia`s full-scale invasion are now helping the country on a volunteer basis. In the future, there is a possibility of opening a new business in Ukraine by them to implement already commercial projects in many areas, including in the direction of military tech. It can cover the country's needs for further defense and protection and have an export component.
You can support the IT industry in Ukraine by hiring Ukrainian developers or partnering with Ukrainian IT companies. And we can help you with this.
How can Red Jumpers help clients achieve IT goals?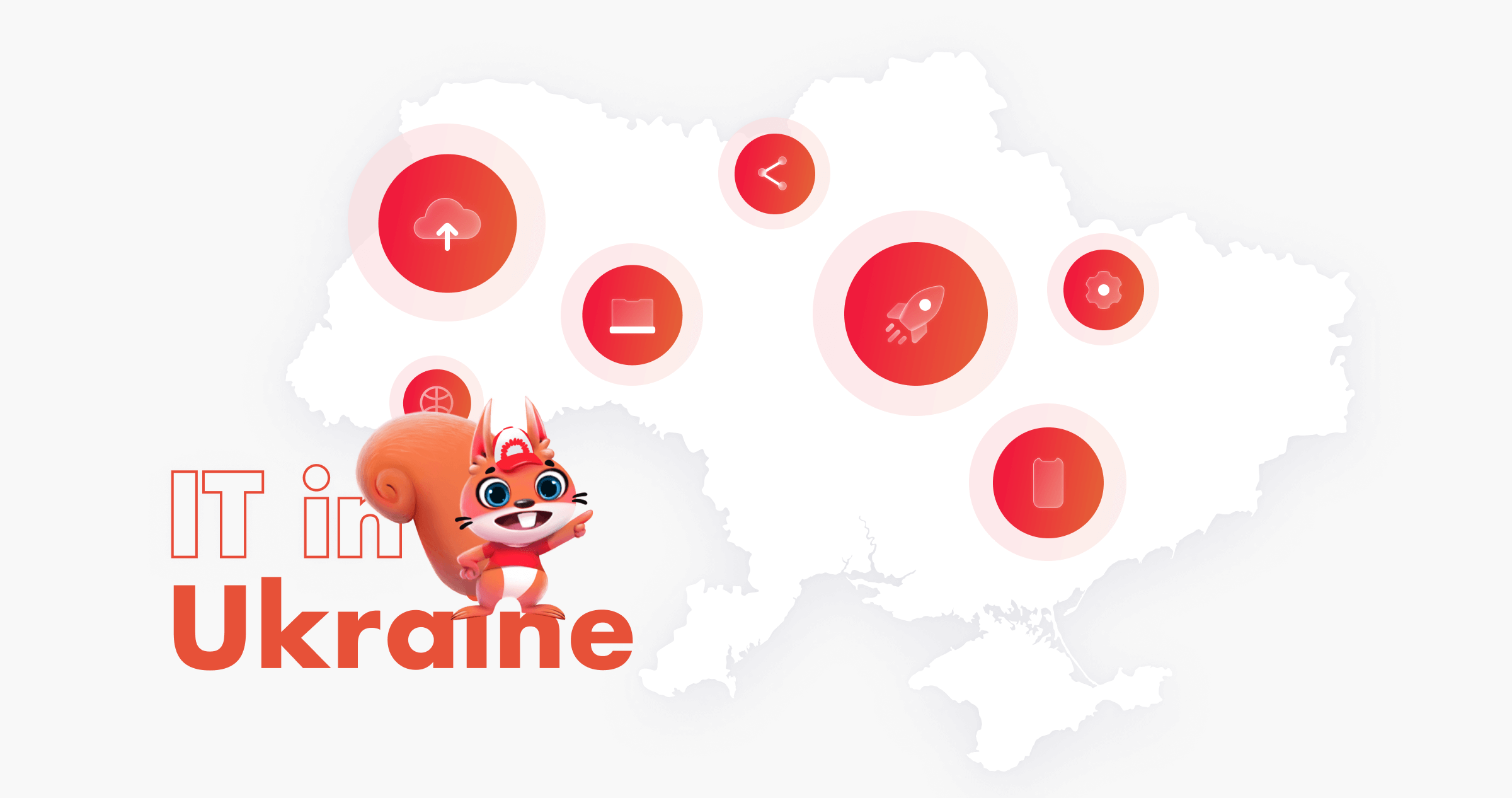 Red Jumpers is a Ukrainian team of high-skilled experts in the IT domain. We build top-level remote teams and provide our clients with access to the most prominent hub of tech talents. Our advantages:
Over 7000 vetted engineers
Over 700 trusted software agencies
Over 5 years of experience in the IT domain
Over 250 implemented contracts
We are the largest network of trusted software and digital companies in Eastern Europe & Latin America. If you need to hire Ukrainian developers already today, we can help you.
Conclusion
Before the full-scale invasion, the Ukrainian IT industry was showing steady growth. But Ukrainians are strong! Despite the constant destruction of Ukraine's infrastructure, shelling, occupation, and labor migration, the IT industry increased export volumes among export-oriented industries compared to last year, while others suffered significant losses. Today Ukrainian developers are a great choice in terms of costs, locations, and prospects.
Red Jumpers is your option to hire the necessary Ukrainian developers in less than 48 hours. So, save your time. Contact us right now!