What Developers Are in Demand Now: Technologies, Rates, and Client Countries
Tech giants like Google and Microsoft are laying off tens of thousands of employees — and instead are actively investing in the development of artificial intelligence. Does this mean a crisis in the IT industry? What developers are currently in demand? How to keep customers and find new ones?
We at Red Jumpers Agency analyzed the statistics of requests from clients for the past year and share the answers to the questions in the article.
Mass layoffs in the tech industry: causes and consequences
Last year, top technology companies laid off more than 70,000 employees worldwide. In particular, 18,000 — Amazon, 12,000 — Alphabet (parent company of Google), 11,000 — Meta, 10,000 — Microsoft. The chain reaction caused a number of layoffs among contractors as well: manufacturers of parts, as well as advertising, consulting, and marketing agencies.
What is the reason for such a wave of layoffs? In short, the global recession that was caused by the coronavirus pandemic. Or rather, with the wrong strategy that most top brands have chosen in 2020.
"At the start of the COVID-19 pandemic, the world quickly moved online, and the surge in e-commerce led to extraordinary revenue growth," Meta CEO Mark Zuckerberg wrote in an explanatory letter to employees. — Many people predicted that this would be a steady acceleration that would continue even after the pandemic was over. Me too, so I decided to significantly increase my investment. Unfortunately, it did not happen as I expected."
Similar messages were published by the heads of other top corporations.
Michael Cusumano, associate dean of the MIT Sloan School of Management, explains the trend this way. To estimate the investment value of technology companies, the amount of revenue per employee is usually used. As businesses have been actively hiring during the COVID-19 period, this number has declined, and the current recession has only worsened the situation. Mass layoffs help increase revenue.
What does this mean for consumers and the industry? Spoiler: nothing special
Firstly, in percentage terms, the number of laid-off employees is not such that it will affect the business. Yes, the 12,000 laid-off employees at Alphabet is just 6% of the total number. There are similar statistics in other companies.
Secondly, given the rapid development of artificial intelligence, companies prefer to invest in the development of AI products (which means new jobs for developers). The loudest event in recent months was Microsoft's plans to invest $10 billion in OpenAI, the creators of the ChatGPT chatbot. Alphabet, which recently introduced its answer to ChatGPT, the Bard bot, has similar plans.
Statistics of requests for developers in 2022
The experience of Red Jumpers Agency confirms that developers are still needed. With the help of our partner network, companies find specialists with the necessary expertise or sell developers sitting on the bench.
In 2022, we received more than 600 requests from customers and analyzed them according to the main criteria.
Programming languages and technologies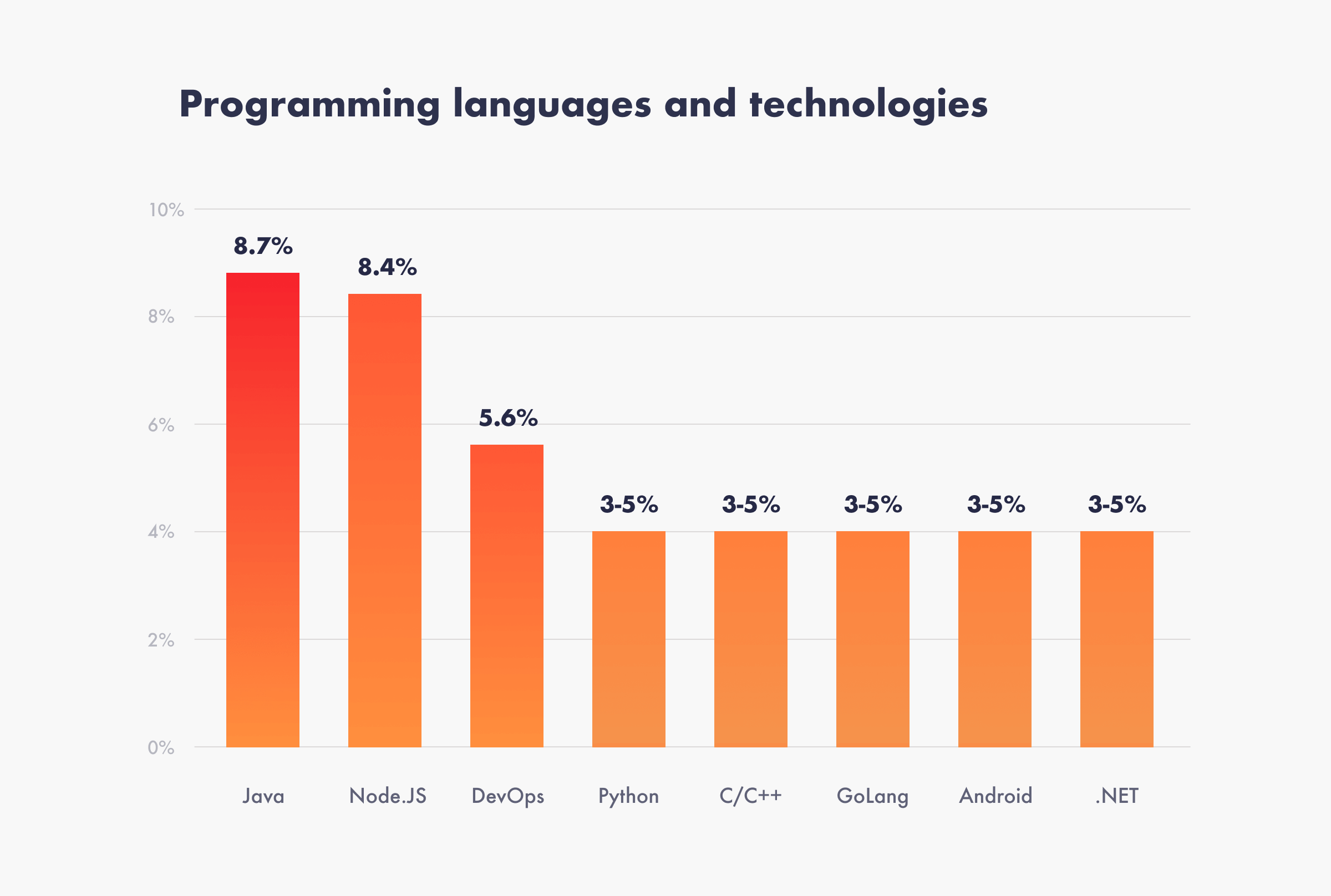 One of the most diverse categories: clients turned to us for both popular and rare technologies. Java (8.7% of requests), Node.JS (8.4), and DevOps (5.6) rounded out the top three in demand.
Popular but less frequent requests (3-5%) include Python, C/C++, GoLang, Android, and .NET. But requests for specialists in Data Science, Unity, Flutter or Ruby were one-time.
Project duration and employment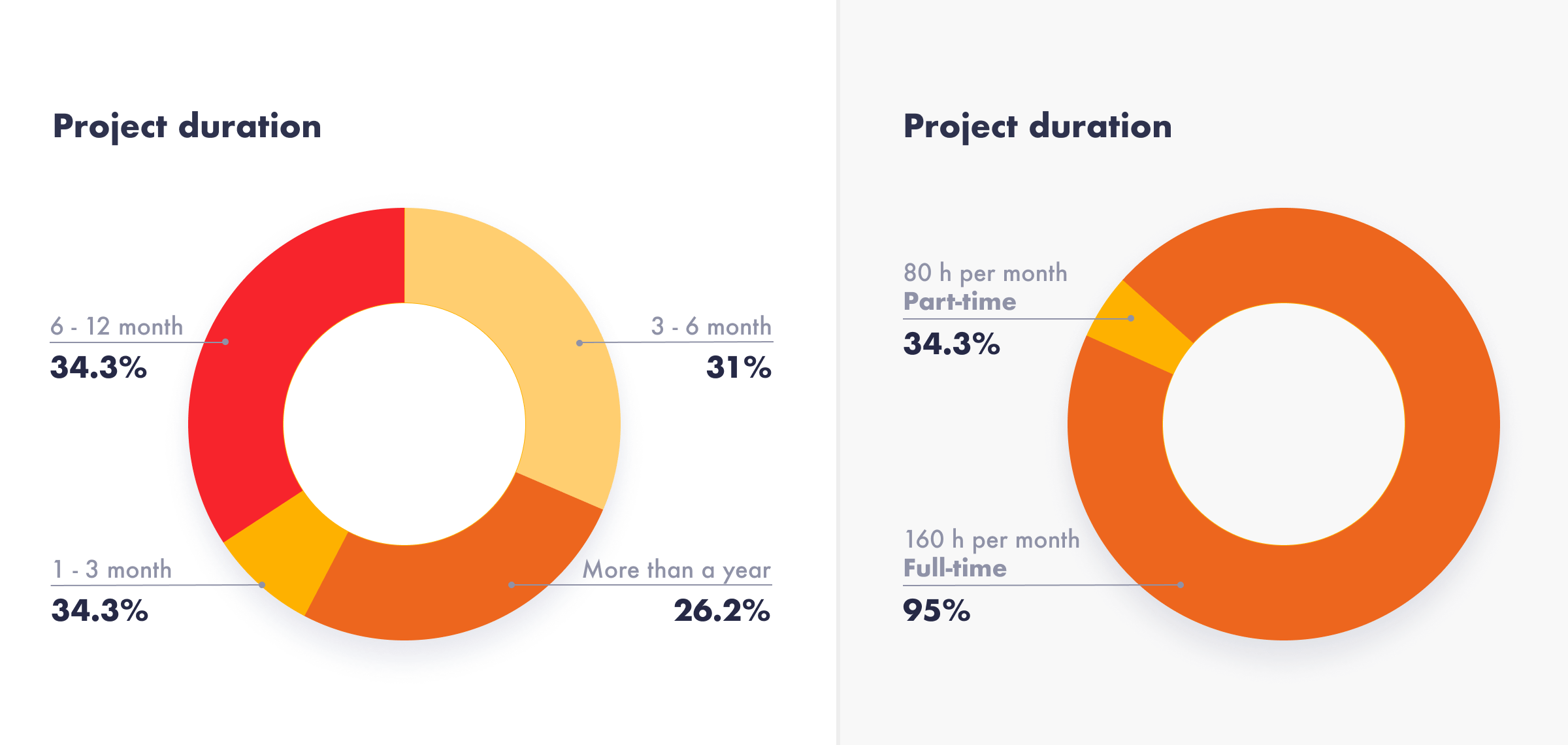 Most companies are looking for developers for long-term projects: 34.3% — for 6–12 months, 26.2% — for more than a year. Another third of customers need services for 3–6 months, and the rest for 1–3 months.
95% of clients are looking for full-time specialists (160 hours per month). The rest offer candidates 80 hours or a fixed salary.
The level of English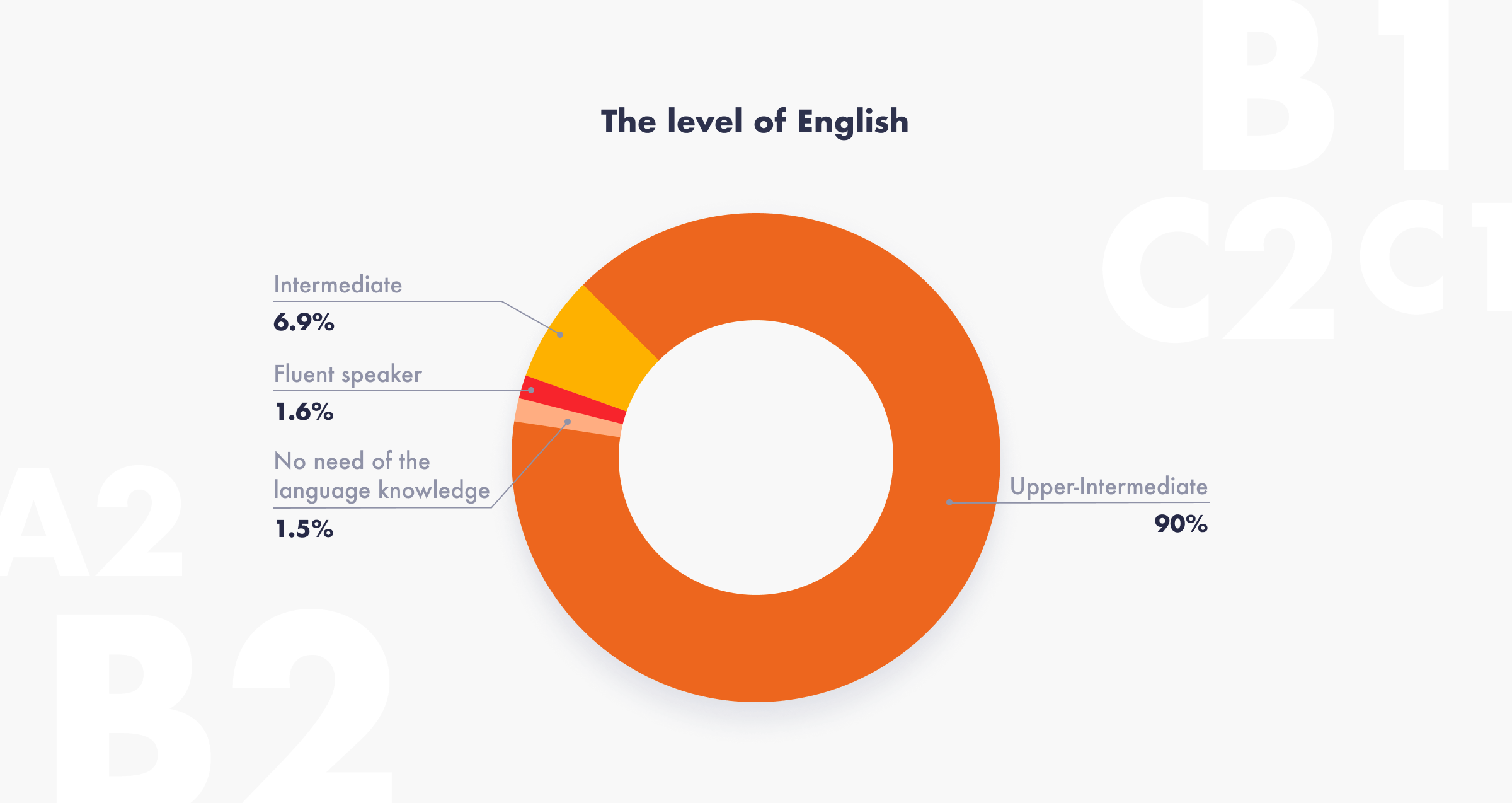 Nothing surprising: 90% of clients want candidates to know English at the Upper-Intermediate level. 6.9% of employers will accept Intermediate. The rest either do not need knowledge of the language at all or prefer to deal only with fluent speakers.
Rates
The most popular payment is 35-40 dollars per hour: it is offered by more than 60% of customers. About 15% estimate the work of developers at 30-35 dollars, and 10% – at 45-50. Other rates range from $20 to $30 per hour.
Client countries and areas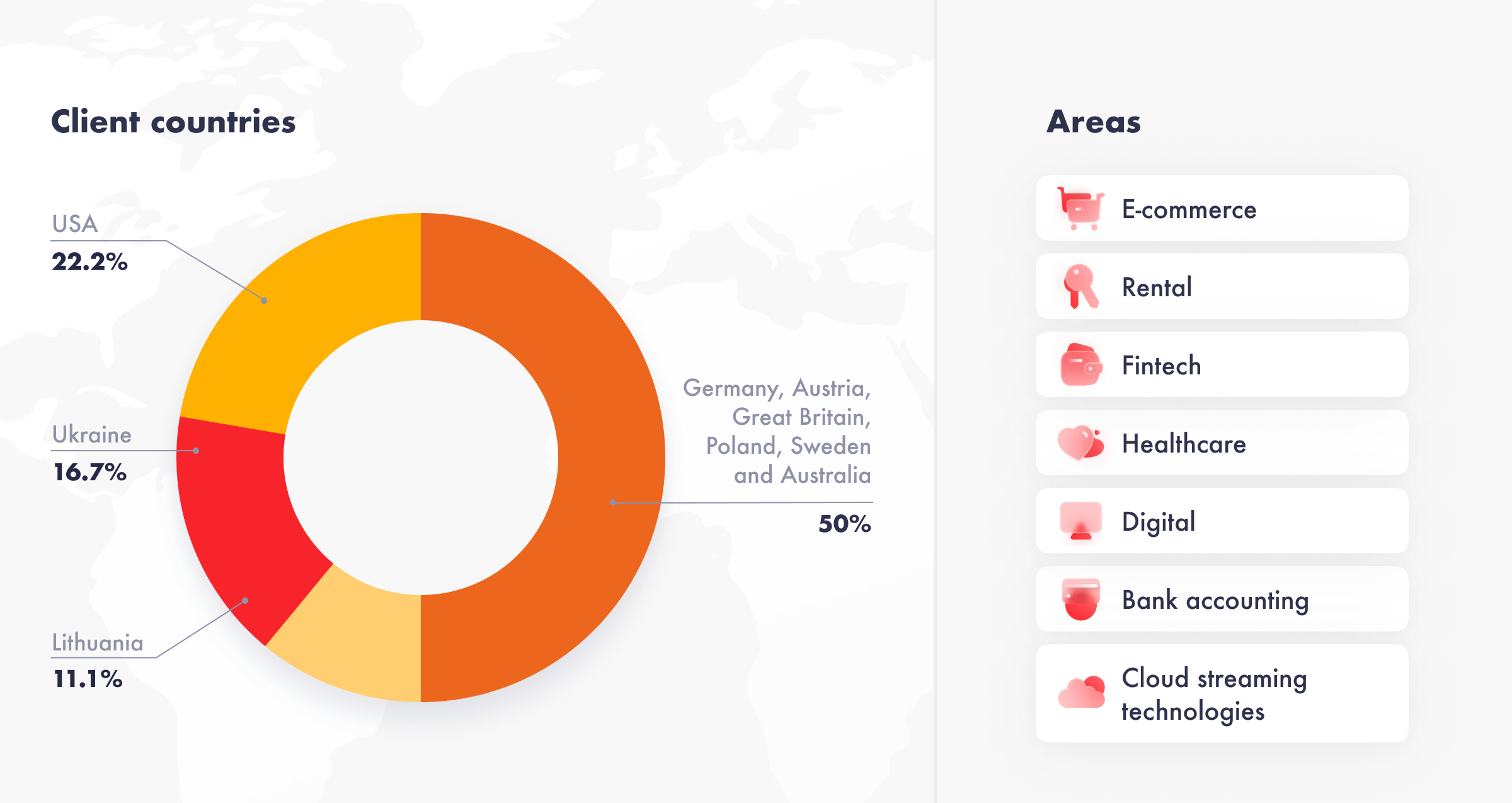 The ranking of customer countries is led by the USA (22.2%). Ukraine (16.7) and Lithuania (11.1) follow. The rest of the clients are from other European countries (Germany, Austria, Great Britain, Poland, Sweden) and Australia.
The leaders in this category are e-commerce and rental (more than 10% of requests for each of the areas). Also among popular requests are fintech, healthcare, digital, bank accounting and cloud streaming technologies.
Conclusions
Our work experience has shown that there is no large-scale crisis in the IT industry. Here is what we want to advise those who are looking for clients or partners:
Determine expertise to enter the market with a clear offer: area of activity, technology, work experience, geography. Get acquainted with the statistics (surveys, vacancies, etc.): so you can find out what is needed right now.
Formulate a goal: find a specialist for a certain task, sell a developer, enter into a partnership for the delegation of projects.— Consider specific actions. To save time on searching and checking potential clients or partners, you can turn to an intermediary, such as Red Jumpers Agency. We have a network of several hundred reliable IT companies that help each other solve bench problems, close the necessary expertise and find new customers.