Overview Of Global IT Outsourcing Trends in 2023
The world economy is experiencing global shocks. The World Bank's preliminary estimates in January 2022 predicted a slowdown in growth from 5.5% to 4.1% in 2022 and 3.2% in 2023, citing new threats from COVID-19 variants, rising inflation, and income inequality. The war in Ukraine started by Russia has made considerable adjustments to this forecast, forcing the organization to reassess global prospects. The current situation is becoming a challenge for the growth of technology companies and global IT outsourcing.
This article will analyze outsourcing trends 2023 and share effective ways to interact with rapidly growing IT markets.
IT outsourcing growth rates in the world in 2023
IT is becoming vital for businesses, and the battle for talented employees is reaching a new level.
The high-tech sector continues to grow, having survived the years of the global pandemic. Its position in the global economy will become even stronger soon. According to Gartner's forecast, worldwide IT spending is projected to total $4.6 trillion in 2023, an increase of 5.5% from 2022.
John-David Lovelock, VP Analyst at Gartner, highlights digital technology initiatives as a top strategic business priority for companies. "Macroeconomic headwinds are not slowing digital transformation", he notes. According to IBM's global research, 60% of organizations have increased investments in digital technologies due to COVID-19. As a result, the IT outsourcing market is also growing.
The main regions for outsourcing are Columbia, Portugal, Brazil, and Eastern Europe, among which Romania, Poland, and Ukraine stand out. And although the war in Ukraine has significantly impacted business processes, Ukrainian companies have mostly fully resumed their operations and continue to work.
Current IT outsourcing trends
We have gathered 5 global trends in IT outsourcing for you.
Work without borders
The development of remote work has contributed significantly to the growth of IT outsourcing. If companies used to be against hiring a remote team abroad, now they are more likely to be interested in attracting talented developers from other countries. Even internal employees are working remotely in most companies.
Global competition for developers
According to Korn Ferry, by 2030, more than 85 million jobs worldwide may remain vacant due to a lack of qualified personnel. That's almost $8.5 trillion in potential losses due to the inability to grow rapidly. IT specialists with experience in cloud computing, machine learning, and software were previously required in technology companies. But now these skills are needed in almost every company, which creates great competition for personnel.
The best employees choose companies with a high organizational culture
In a competitive market, talented employees prefer to work on their terms and pay more attention to company values and corporate ethics: both internal and external. According to IBM research, almost 30% of specialists changed companies in 2021. More than half of them cited the lack of company flexibility as the main reason for the transition. A third of respondents said they wanted to work for a company more aligned with their values.
Shift to R&D centers
More and more tech companies prefer to open their R&D centers, considering this cooperation option more attractive than traditional outsourcing. The advantages of R&D are apparent: an in-house development center provides access to a large talent pool, the ability to build your corporate culture in a team, and full control over internal work processes. In addition, maintaining an R&D team is cheaper than outsourcing developers.
Increased demand for developers from Eastern Europe
Eastern Europe has already become a popular destination for IT outsourcing. It is attracting more and more attention from companies worldwide due to attractive prices for developer services, high-quality technical education, and many talents. The total number of developers in this region is over 1 million.
The most popular countries for IT outsourcing in Eastern Europe are:
Specialists from these countries work for the world's leading companies. Google, Microsoft, Amazon, Apple, Motorola, Samsung, Huawei, Siemens, Intel, and about 100 other Fortune 500 companies have opened their offices here. Moreover, with the increasing number of successful startups, Eastern Europe is not only consolidating its place in the top IT outsourcing market but is likely to claim a large share of the product IT market in the coming years.
R&D offices as a promising global IT trend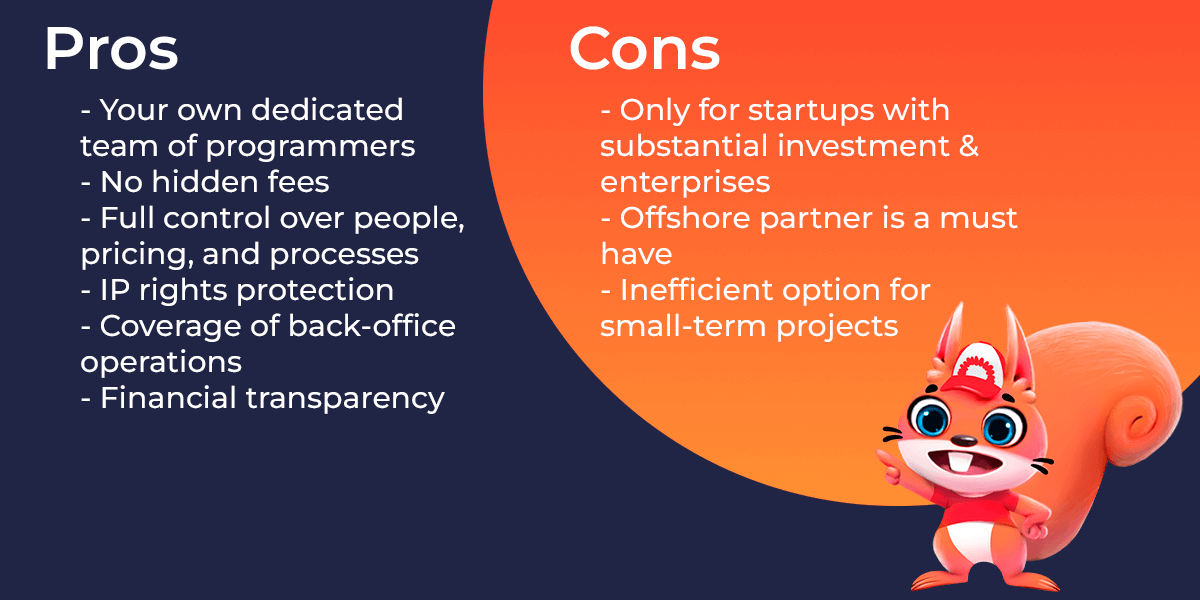 R&D centers are a relatively new but promising outsourcing trend. Recently, more and more tech companies have been choosing to open their development centers in Eastern Europe. Traditional outsourcing and IT staff augmentation models are giving way to this model, which has several obvious advantages amid increasing competition for qualified employees.
The best specialists in your office
Establishing direct relationships with developers allows you to strengthen long-term relationships with the most talented of them. And various bonus systems and training can motivate your team to work even better. While in a traditional outsourcing model, this would be a waste of effort, as the customer often rotates developers on projects to allocate resources.
In-house development team
The R&D team consists of employees who work full-time regularly. This ensures high involvement in product development, as IT specialists see the direct results of their work, grow with your company, and strive for mutual success. If you work with an outsourcing agency, developers will always consider the provider company as their main employer, not you. This can create unexpected difficulties in management and work regulations.
Cheaper than relationships with outsourcing providers
By opening their R&D center, companies can focus on the pricing of the national market, while the prices for outsourcing services may be tied to the international market. This is often the case for companies unfamiliar with the realities of outsourcing – the cost may differ by 2–3 times.
In addition, due to the lack of transparency in pricing, providers can typically include additional costs in the cost of services, shifting their risks onto the customer's shoulders. With your R&D center, you can control its maintenance costs and distribute employee remuneration at your discretion.
Conclusion
The global IT outsourcing market will continue to grow in the coming years. Businesses must hire more experienced developers to win the technological race, but the global shortage of specialists will only increase the competition for the best developers. They can be found in Eastern Europe, which has recently set trends in outsourcing (Ukraine, Poland, Romania, Czech Republic, etc.).